Infiltrative GIT in Dogs and Cats: the role of Mobile Veterinary Ultrasound
The Vet Ultrasound Group is frequently asked to perform mobile veterinary ultrasound on cats and dogs in Brisbane, to investigate the cause of chronic vomiting, diarrhoea, and weight loss.
Ultrasound of the gastrointestinal tract provides an assessment of intestinal wall thickness, layering, luminal contents and motility.
Imaging the normal intestine:
There are 5 distinct intestinal layers identified on ultrasound:
Lumen (white)

Mucosal (black)

Submucosa (white)

Muscularis (black)

Serosa (white)
| | | |
| --- | --- | --- |
| Normal Wall Thickness | Dogs | Cats |
| Stomach 2-5mm | 2-5mm | 1.7-3.6mm |
| Duodenum | 3-6mm | 2.0-2.5mm |
| Jejunum | 2-5mm | 2.0-2.5mm |
| Ileum | 2-4mm | 2.5-3.2mm |
| Colon | 2-3mm | 1.4-2.5mm |
Imaging the diseased intestine
1. Inflammatory Bowel Disease (IBD):
Inflammatory disease of the GIT may cause thickening of intestinal loops, but is unlikely to cause changes is wall layering.  In many cases the intestine will appear normal.  Various histo-pathological types of IBD have been described, with classifications based on the predominate cellular infiltrate.
2. Neoplasia
GIT neoplasia may be focal, multi-focal or diffuse.  Neoplasia is more likely than inflammatory disease to cause changes both in wall thickness and layering.  Common intestinal tumors in dogs are adenocarcinomas, lymphomas, leiomyosarcomas and gastro-intestinal stromal tumors (GISTs). Other tumor types (leiomyomas, adenomas, carcinoids) are occasionally seen.
GIT Biopsies:
Infiltrative diseases of the GIT requires histopathology for a definitive diagnosis. Biopsies may be obtained via surgery, endoscopy or by ultrasound guidance.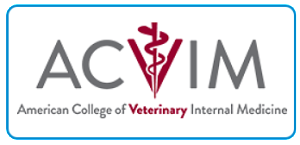 The American College of Veterinary Internal Medicine (ACVIM) released a consensus statement (2010) providing a detailed overview of the collection and interpretation of GIT biopsies.
Visit The American College of Veterinary Internal Medicine website to view the consensus PDF.
How does abdominal ultrasound help in the diagnosis of infiltrative GIT disease?
1.To localise the lesion:

Ultrasound can be used to localise the lesion to the stomach, duodenum, jejunum, ileum or colon. Ultrasound can therefore help to determine a suitable biopsy technique.

o Lesions in the stomach, and duodenum may be accessible by performing endoscopy of the upper GIT.
o Lesions in the colon and ileum may be accessible by performing a lower GIT endoscopy.
o Exploratory laparotomy would be required to obtain biopsies of the jejunum.

2. To determine which layer of the intestine is affected:

o Mucosal lesions can be evaluated via endoscopic biopsy.
o Full thickness (surgical) biopsies are necessary to evaluate submucosal and muscular layers of the intestinal wall.

3. Fine needle aspirate/biopsy (FNAB):

o Ultrasound guided aspirates can be used to obtain samples of focal lesions for cytological analysis.

4. Evaluation of other abdominal organs:

o Unlike endoscopy, abdominal ultrasound allows evaluation and sampling of other abdominal organs. A definitive diagnosis can often be obtained by sampling enlarged mesenteric LNs or metastatic lesions involving the liver or spleen.

5. Guide treatment:

o Symptomatic therapy is often recommended for patients with GIT disorders where no abnormalities are identified on ultrasound. This will typically include a hydrolysed protein diet, +/- gastroprotectants and/or antibiotic therapy.
o Surgical intervention is recommended where lesions are causing GIT obstruction and/or peritonitis.
For general practitioners in Brisbane, access to specialist abdominal ultrasound services is more available than ever. The Vet Ultrasound Group provides a mobile ultrasound service is Brisbane and surrounding areas.